NEWS:
11 Apr, 2018
Share this Article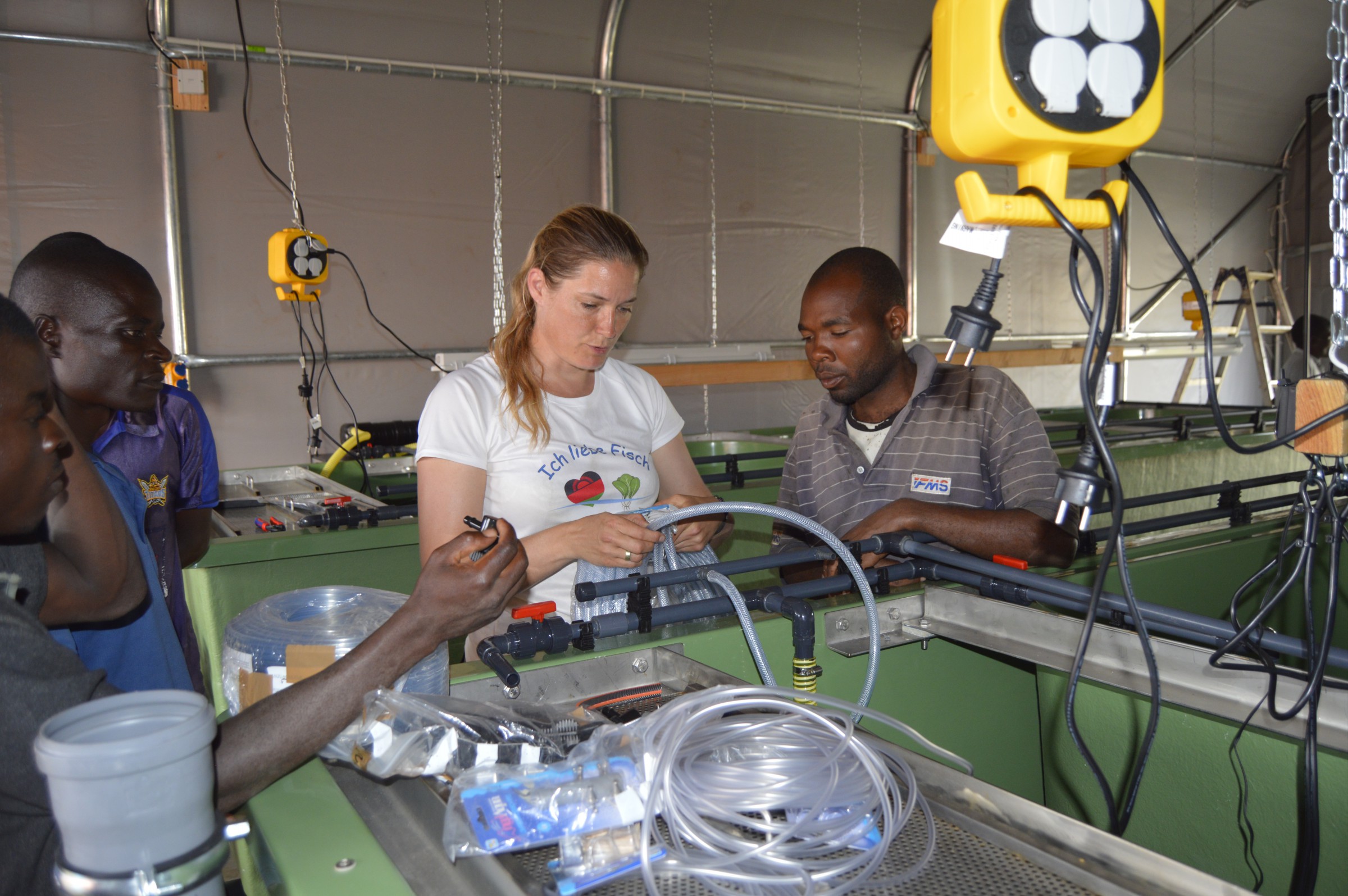 Dr. Marina Gebert from and LUANAR staff working in the solar hatchery
The Aquaculture and Fisheries Science Department, together with German partners, with funding from the Federal Ministry of Food and Agriculture (BLE) of German Government, on Monday, 9th of April 2018, completed installation of a solar hatchery at Bunda Fish Farm.
It is envisaged that the solar hatchery will boost the production of fry/fingerlings and it will also help when there is Escom power outage.
Principal Investigator for Improving Community Health-Nutrition linkages through Solar energy-based Fish and crop integrated value chains – Ichliebefisch (I love fish Project, Dr. Daud Kassam, said due to intermittent Escom power supply, many fry used to die due to low supply of oxygen in the hatchery hence the decision to have a solar powered hatchery.
"Many fry used to die due to lack of oxygen supply in the other old hatchery because of frequent blackouts. We decided to come up with a solar hatchery that would ease the problem," he said.
Construction of the hatchery started on 26th March this year in collaboration with German partners under the Ichliebefisch (I love fish) project, and its main focus is on the production of Oreochromis Karongae (real Chambo).
Dr. Kassam said they would like to produce more fingerlings of Chambo, which they will be distributing to farmers in Nkhotakota and Mchinji (being project-targeted districts) in Integrated Agriculture-Aquaculture (IAA) systems and all other districts.
"We are working with farmers in Nkhotakota and Mchinji under IAA. We supply fingerlings and vegetable seeds to these farmers. Our objective is to improve the nutrition and socio-economic status of these farmers," He said.
Dr. Kassam went further to say that the project is bringing aquaponics unit in which farmers will be growing vegetables in water where fish is also being bred. The the project is further planning to construct a green house on some fish ponds at Bunda fish farm to control temperature rate.
He added that apart from improving the community health-nutrition and socio-economic status, the project is also funding MSc students on full scholarship.
The Project is coordinated by Dr. Marina Gebert who is a senior scientist at Fraunhofer Institute of Marine Biotechnology (EMB) in Germany. And the solar hatchery was designed by Dr. Bernd Ueberschaer of Association of Marine Aquaculture (GMA) in Germany. These two scientists played key role in construction of the hatchery, providing all the guidance to the local team.